TCU lands commitment from SFA transfer DL Caleb Fox​
ByJEREMY CLARK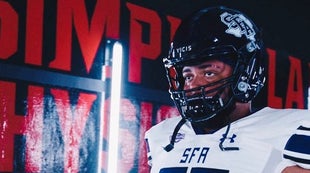 TCU added another commitment from the NCAA transfer portal on Thursday as Stephen F. Austin defensive lineman Caleb Fox committed to the Frogs. Fox released the news via his Twitter account.
"I would like to thank all the programs that believed in my ability to play the sport I love and extended me an offer during this time. With that being said, I will be making the decision that is best for myself and my family… COMMITTED," Fox wrote.
TCU has now landed 13 players via the NCAA transfer portal. Fox is the third defensive lineman to transfer to the Frogs, joining Lwal Uguak (UCONN) and Tymon Mitchell (Georgia). Mitchell committed to the Frogs last week.
Read more at
https://247sports.com/college/tcu/Article/TCU-Horned-Frogs-land-Caleb-Fox-187219310/