ESPN actually did a cool little writeup on Kyler and other legendary Texas high school QBs.
I know most of yall are from the Lone Star State. You can say QB or just player. Who is the best player you saw LIVE?
In high school. So not a guy who became a stud in the NFL but was a great high school player.
Mine was Jacquizz Rodgers at Lamar down in Rosenberg. My late father was enamored with him. And his brother. But Quizz was amazing.
Runner-up for me was Quentin Jammar down in the Angleton area.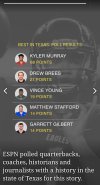 Last edited: