RHP Stoutenborough Transfers To The Frogs



The grad transfer from the Cal Bears will add an arm to TCU's roster.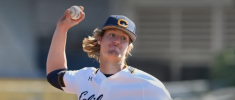 BARRY LEWIS
This week, TCU Baseball picked up a key pitching arm from the transfer portal. Sam Stoutenborough, a grad transfer from the University of California, will join the Frogs for the 2023 season.
The RHP played four years for the Cal Bears but still has an extra year of eligibility due to the pandemic. He graduated in May with a degree in American studies. This past season, he made 17 appearances, including eight starts, for a total of 59.2 innings pitched. He went 2-4 with a 5.58 ERA and a 1.36 WHIP. He had 38 strikeouts and issued just eight walks. He led the Pac-12 and ranked 12th nationally, with an average of 1.21 walks allowed per nine innings.
He started the season as Cal's 4th starter or their midweek starter. As such, he did not face TCU nor any team in the MLB4 Tournament in Scottsdale that opened the 2022 season for both Cal and TCU. Cal won that tournament going 3-0 with wins over San Diego State, TCU, and Houston.
Read more at
https://www.si.com/college/tcu/baseball/rhp-stoutenborough-joins-horned-frogs
Last edited: