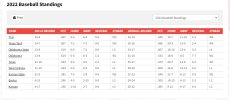 NOW we have updated baseball standings after Tech swept the Cow Pokers. Tied with Tech percentage-wise but we have two more wins.
Our home series losses against WVU and OU sting.
We are done with conference. Tech and OSU have easy (on paper) conference finales this weekend. Tech hosts OU and OSU is at Baylor.
Stay hot Frogs.