And you have the figures.?. My guess is more people would watch KSU from the West/South/Mid-West/Southwest than would watch Rutgers(or Maryland), If the 2 were the only games competing for viewership... based entirely on KSU's hardnosed football history.

Again, the future members viewership are of concern now !!
From Stewart Mandel's article in The Athletic—
Below is a chart of the remaining Pac-12 and Big 12 schools' average TV ratings, from 2015-19 and 2021. (Games against Oklahoma/Texas and USC/UCLA are excluded.)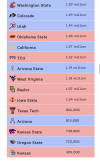 @TXTXFrog
@Froglaw
@froginaustin
@Endless Purple
Two Power 5 schools in the small state of Kansas doesn't work, they are both at the bottom of the Big XII. Add their two numbers together and you are at 1.16 million which would appropriately represent one P5 school in the state of Kansas and the Big XII. That combined number would be good for third place in the Big XII behind TCU at 1.22.
One P5 school
representing
the state and conference
becomes a relative TV financial strength
for the conference
instead of the conference bearing the brunt of two weaklings (times two, not simply one, but two, two of the current eight, that is 1/4 ! ) which burdens the TV deal for the Big XII.
Turn Kansas into a football TV conference asset, instead of a football financial burden.
Last edited: